I have been on quite a few skiing holidays. This page lists them all, along with links to relevant photo albums, and other information. Click on any of the images to view the entire albums, or watch the videos.
Belle Plagne - France - March 2011
Our next trip is already planned, I can't wait!!!
Saas Fee - Switzerland - April 2010
This was the first ski trip that Karen joined us on. We enjoyed switzerland, and my interests in taking GPS logs of all the pistes enabled me to make my own take on the
piste map
.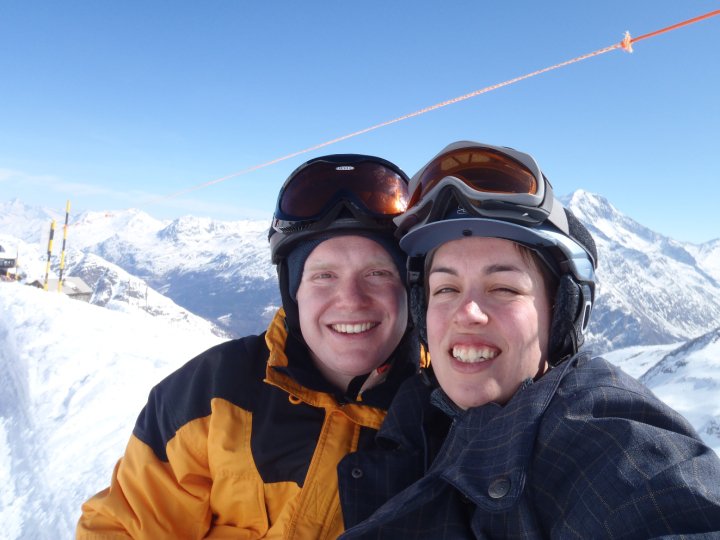 Mayrhofen - Austria - January 2009
An enyoyable trip to Austria, where the snow was good, and the food was good too.
Soldeu - Andorra - March 2008
Good snow again, meaning that we were able to ski the whole Grandvalira resort. In fact, my brother and I decided to take the challenge, and ski to all parts of the resort, collecting stamps. Once all the stamps were collected we were given badges as a prize for completing the challenge.
El Tarter - Andorra - January 2007
There was a lot less snow this time, which meant the connections between the various parts of Grandvalira were closed. The first night we were there was in fact New Year's eve, so we were shown some traditional Andorra celebrations.
Grandvalira - Andorra - 2006
Our first skiing holiday to Andorra had possibly the best snow I'd experienced, although it did mean a long detour on the transfer from the airport as the only road into Andorra from France was closed, and we had to go via Spain!
Les Deux Alpes - France - March 2003
For this trip, it was just me and my mum. The resort was excellent, although war did break out in Iraq during the week we were there.
Banff and Lake Louise - Canada - April 2002
We enjoyed the spring skiing in Canada, so decided to go back. We stayed at the Sunshine Lodge, which is situated at the top of the Gondola at Sunshine Village, giving you access to the slopes for an extra half hour before everyone else. There was fresh powder pretty much every morning!
Lake Louise and Banff - Canada - April 2000
This was our first family skiing holiday. We went late in the season so that it wouldn't be too cold!
Alpe d'Huez - France - Febraury 2000
This holiday was also in the half term break, and we went with my friend and his family.
Sauze D'Oulx - Italy - February 1999
This holiday was also in the half term break, and we went with my friend and his family. I remember the food being really good!
Borovets - Bulgaria - February 1998
My third skiing holiday was with my friend and his dad, to Borovets in Bulgaria. This trip also took place during the February half term. I happened to celebrate my 15th birthday during the week, and also won a pair of skis in a raffle. However, these skis were 200cm straight skis which i have never grown in to!
Austria - February 1997
My second skiing holiday was also a school trip to Austria, during hald term in February 1998. I don't actually remember the resort that we went to, but do remember getting on the wrong bus home one evening!
St. Johann - Austria - February 1996
My first skiing holiday was a school trip to St. Johann, in Austria, during half term in February 1996. This was quite a while ago, and I no longer remember that much about this trip.